With inflation on the rise, it's time to revisit The Container Store bins post to see where things are at as product prices as increased and some products aren't made anymore.
As we embark on the end of the year, we typically gear up for the New Year with great ambition.  It's the reset button, time for a fresh start, and with COVID, we all could use a fresh start.  There's no better place to start than at your home.  Bins, containers, and labels provide order and structure for any home.  There are a plethora of places to shop for bins, over the next few weeks, I'll be sharing the best bins from various retailers at great price points. We'll of course start with The Container Store favorites.
They finally have an app!!  Hallelujah!  As Lizzo says "about damn time!"  Go download it and see how much easier it is to search for products and place orders.
Organized Insider (formally known as POP – Perfectly Organized Perks)
Before buying anything from The Container Store, be sure to sign up for their free rewards program.  You'll receive 15% off your first order and receive various coupons throughout the year.  If you are also a part of the program and move, you receive 20% for the first three months.  Sold yet?!
Types of Container Store Bins
The Container Store offers a wide range of bins and storage solutions to choose from. Here are just a few of the most popular options:
Clear Plastic Bins: Clear plastic bins are perfect for storing items that you need to access frequently. Because they're transparent, you can easily see what's inside without having to dig through the bin. This makes them ideal for storing items like shoes, craft supplies, or toys.
Woven Baskets:  Woven baskets are a stylish and decorative option for storing items like blankets, pillows, or magazines. They come in a variety of colors and styles, so you can find the perfect basket to match your decor.
Fabric Bins:  Fabric bins are great for storing clothing, linens, or other soft items. They come in a variety of sizes and colors, and many are collapsible for easy storage when not in use.
Stackable Bins:   Stackable bins are perfect for maximizing vertical space in your home. They come in a variety of sizes and can be stacked on top of each other to create a customized storage solution.
How to Choose the Right Container Store Bins for Your Needs
Choosing the right Container Store bin for your needs can seem overwhelming, but it doesn't have to be. Here are a few tips to help you find the perfect bin:
-Consider the size and shape of the items you're storing: If you're storing items like shoes or books, you'll need a bin with a specific size and shape. Consider measuring your items before you go shopping to ensure that you're choosing the right bin.
– Think about the space you have available: If you have limited storage space, you'll want to choose bins that can be stacked or easily tucked away when not in use.
– Consider the style and color of the bin: If you're using your bins for decorative purposes, you'll want to choose a bin that matches your decor and adds to the overall aesthetic of your space.
Solutions Under $10
*We receive commissions for purchases made through links in this post. Read more 
Plastic bins are an affordable way to get organized without breaking the bank.  These are personal favorites that typically get used first on any project.
Multi-Purpose Bins $5.99-$8.99
Available in a variety of sizes.  These bins are perfect for any pantry, bathroom, or under-the-sink storage solution.  These bins are deep and hold quite a bit because of the height of each bin.
Clear Stackable Storage Bins $3.49-$6.99
While the majority of these bins are under $10, there are a few over that amount.  The beauty of these bins is their flexibility to stack and use or remove dividers.
Men's Shoe Box $5.99
While this bin is labeled as a men's shoebox, it's anything but that.  It can be used to organize toys, crafts, or bathroom supplies.  The lid allows you to stack multiple bins on top of each other.
Bin Clip Labels $9.99
These durable labels work great on any wicker storage bin.  Available in four colors: silver, gold, black, and white, they will beautify any bin.
SmartStore Tall Insert $5.99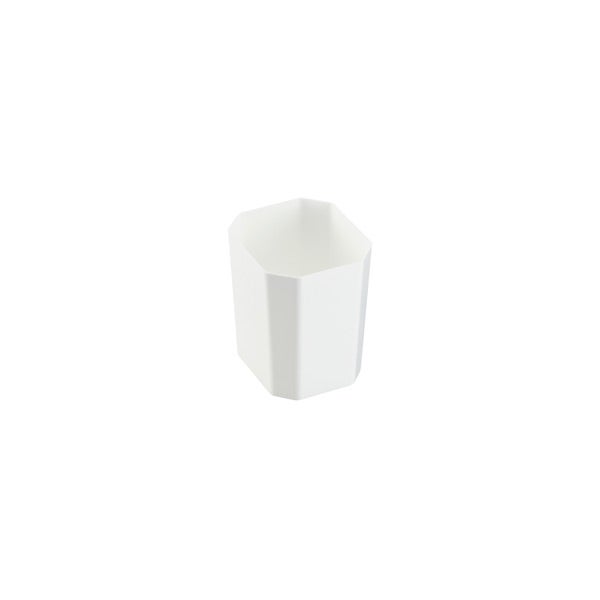 Solutions Under $20
White Turntable $10.99 (previously was under ten, had to move it up to the next level)
Turntables can literally turn any space from frustrated to functioning.
Utility Plastic bin $13.99 (another one that was previously under ten, got moved up to under $20)
Clear stackable bin that works great for the garage, utility closet, or play area.
Linus X-Large Open Stacking Bin $12.99
Stackable bins create more space.  This particular bin is clear making it easy to see what's in there and also very ergonomic, making it easy to access.  Use it in the pantry, under-the-kitchen sink, or bathroom.
Grey Basketweave Bin $19.99
This grey basketweave bin is a great size and perfect for storing toys, blankets, or sheets.
Oxo Turntable $14.99
This turntable comes in two different sizes.  The white and black design gives this turntable a clean and sleek look.  It pairs nicely with white or black bins.
Expand-A-Shelf $17.99
This shelf expands up to 25″.  Use it to get a better visual of cans or medicine bottles.
Clear Turntable $15.99
This is one of the few 9″ turntables that fits nicely in smaller spaces.
Large Clear Bin $19.99
This clear bin is one of the most versatile bins out there.  Use it in the pantry, medicine cabinet, bathroom, craft area, or refrigerator. 
Clear Stackable Bin $19.99
These clear stackable bins work great for the closet, especially those that come with the white wire shelf.
Bins Under $30
White Stackable Bin $27.99 (previously under $20, moved up to under $30)
This bin is labeled as a recycle bin but can be used for so much more than that.  Use it to contain toys, diapers, or clothes.
Black Wire Bin $21.99 (previously under $20, moved to under $30)
It's hard to come across wire bins that are designed nicely, this is one of them.  They stack and are easy to carry.
Wood Stacking Bin $21.99 (previously under $20, has moved up to under $30)
This bin can be used for the pantry or for storing toys.  The ergonomic design makes it easy to access what's in there.
Water Hyacinth – Medium $21.99 (previously under $20, moved up to under $30)
These bins are beautifully designed and make any space cozy.  It comes in a variety of sizes making it extremely versatile for any space.
Large Deep Drawer Bin $26.99
This deep drawer bin is perfect for those pantries with deep shelves.  It comes in three different sizes and is 16″ deep.
Divided Turntable $29.99
Divided turntables are a game-changer.  They keep a variety of items neatly contained and easy to access.  This particular bin also has removable dividers giving you flexibility.
Montauk Grey Bin $29.99
The Montauk grey bin is a personal fave, it makes any space look classy.  Use it in the pantry or closet, either way, your space will look and feel amazing immediately.
Drop Front Shirt Box $29.99
Beautiful storage bins that will make others envious of your closet. The drop-down clear front makes it easy to see what's in there.
Bins Over $30
Deep Drawer Dividers $32.99
Drawer dividers keep drawers neatly in tack.  These are 6″ high making them fit well in tall drawers.
Clear Expandable Shelf $32.99
This shelf expands up to 19″.  The sleek and clear design can transform any pantry.
Elfa
No Container Store bins list would be complete without the amazing Elfa product line sold exclusively there.  The unique design allows you to customize any space. It's available in three colors: white, platinum, and graphite.
Drawer Unit $179.99
Use this in the closet to keep clothes neatly organized.  Works great for sweaters, sweatshirts, and shirts.
Gift Wrap Cart $259.99
Keep all the gift supplies neatly contained in this cart.
Over-the-door Rack $139.99
Make great use of any door in your home with this over-the-door organizer.  Use it in the pantry, utility closet, or kid's bedroom to keep anything organized.
Final Thoughts
From clear plastic bins for easy visibility to stylish woven baskets for a decorative touch, Container Store bins have options for every need and aesthetic. Not only do these bins help keep your belongings organized, but they also make it easy to access and use them when you need them most. So say goodbye to clutter and hello to a simplified, stress-free home with the help of the Container Store's bins.