A common frustration is how to organize a pantry that is small.  It seems impossible but it's not.  Having an organized pantry has many benefits including less stress.  A good system regardless of the size of a pantry will keep it organized.  Here are some tips for small pantry organization.
*We may receive a commission through the links listed, product recommendations are based on brands we use and trust.
Measure
The first step with any project is measuring. You have to know the dimensions before anything can be done. Dimensions are even more critical with smaller pantries because there's minimal room for error.  These are the dimensions you'll need, be sure to write them down for quick and easy reference.
Length x Width x Height
Save yourself the headache and get out the tape measure. Once you have the numbers, then it's time to start figuring out how to make things function better.
Food Storage Containers
Decanting is a game changer. Clear canisters give you peace of mind and provide an organized look and feel.  Food storage containers stack on top of one another creating more space.  They also provide uniformity, eliminating the decluttered look and feel.
Adding vertical storage prevents anything from piling up or falling over. With shelves or rolling drawers, there's only so much space that's available before things start falling down. Canisters eliminate that frustration.  That's exactly what was done with the pantry rolling drawer above.  The vertical canisters maximized space between that drawer and the next one.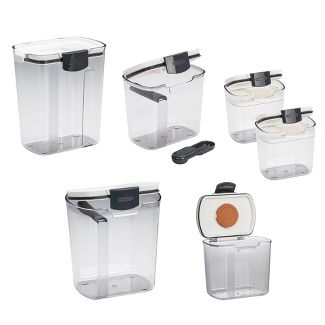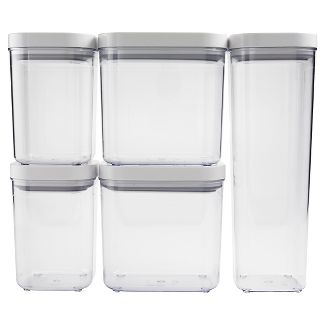 Add Shelving
Shelves create more space and make it easy to maintain a small pantry.  Use a freestanding unit like this one or create a custom-built one from The Container Store like this.
With this customization, adding shelves was imperative since there were none.  From there it was adding storage bins that fit on the shelves and at the bottom.  Getting the right bins matter because if they're too big or too small, it's not going to function well.  It's like wearing shoes that are too big or too small, they're just uncomfortable.
Matching bins provide cohesion and symmetry, both of which our brains love.  We like patterns so be sure to buy bins you love looking at because you'll see them almost daily depending on what you're doing.
Adding shelving can also mean adding to what's already there but using this cabinet storage shelf.
The simple addition to this shelf allowed all the plates and bowls to be stored here.  Stacking them all together would've caused them to fall down and would need to be stored in another place, which we don't want to happen.  Keeping like with like in the same place mimizes confusion and duplicate purchases.
While this shelf was used in a cabinet for kitchen supplies, it can easily be used in a pantry where a bin can be placed below it or on it.
Use Stackable Bins
Stackable bins create more space, making sure space is completely utilized.  There are a variety of stackable bins, here are a few faves.
Most shelving typically has adjustable shelves that wasn't the case with this pantry so I had to make sure the bins that were used maximized the depth.  I also wanted to use stackable bins because there was quite a bit of height for each shelf.  After many searches, these Manhattan bins were the best solution.
Another thing to keep in mind when using stackable bins, the opening matters because you want it to be easy to get what you need.  I've used stackable bins in the past where getting the items on the bottom was a bit challenging and/or the top would easily move.
Empty Items Out of Packaging
Boxes are big and bulky, they take up unnecessary space.  Taking items out of packaging creates more space because more items can be put in that area.  For example, let's say you've got cereal bars, fruit snacks, and fruit pouches.  All of these items come in boxes, they can all be put into a bin or container giving you more space and it also lets you see how much is left.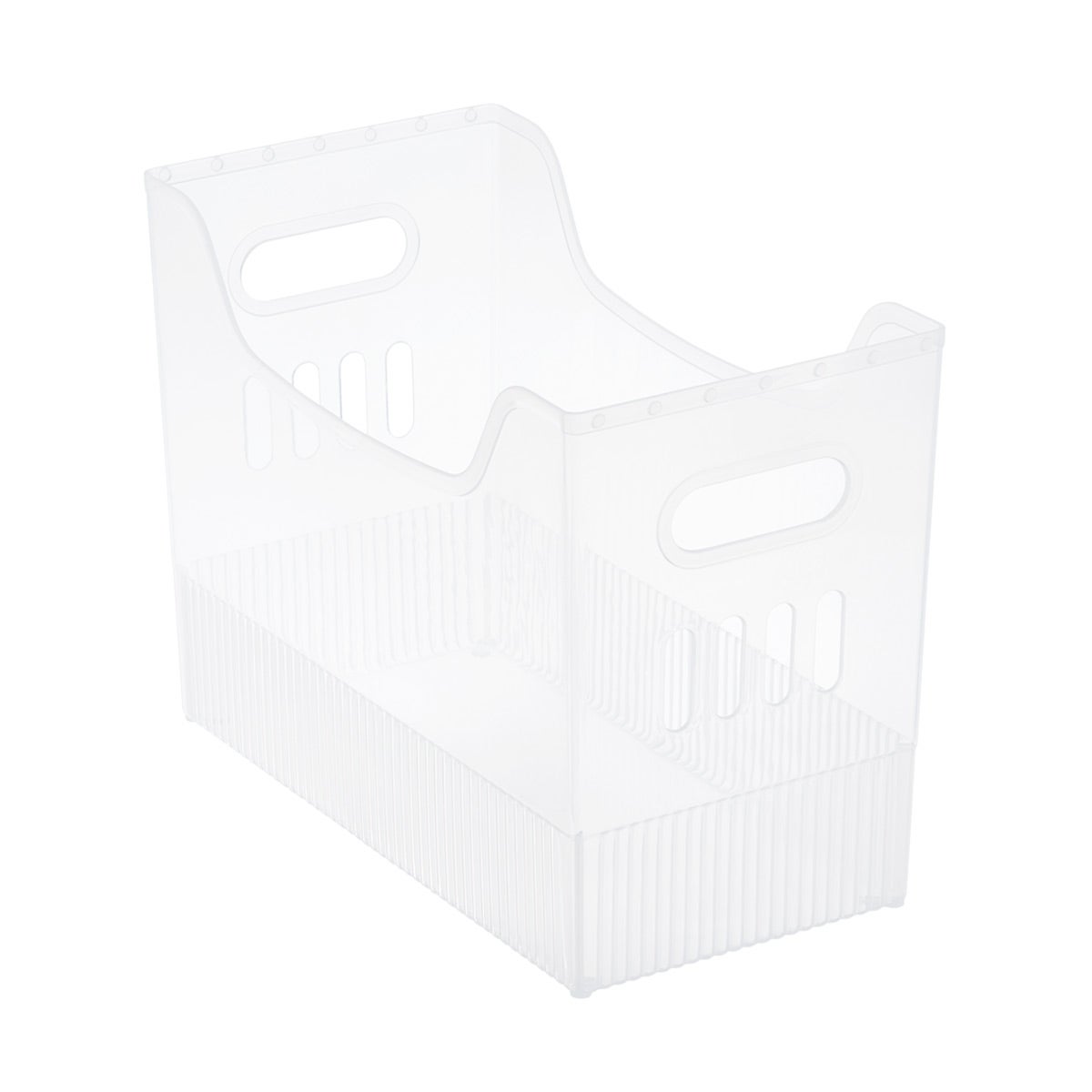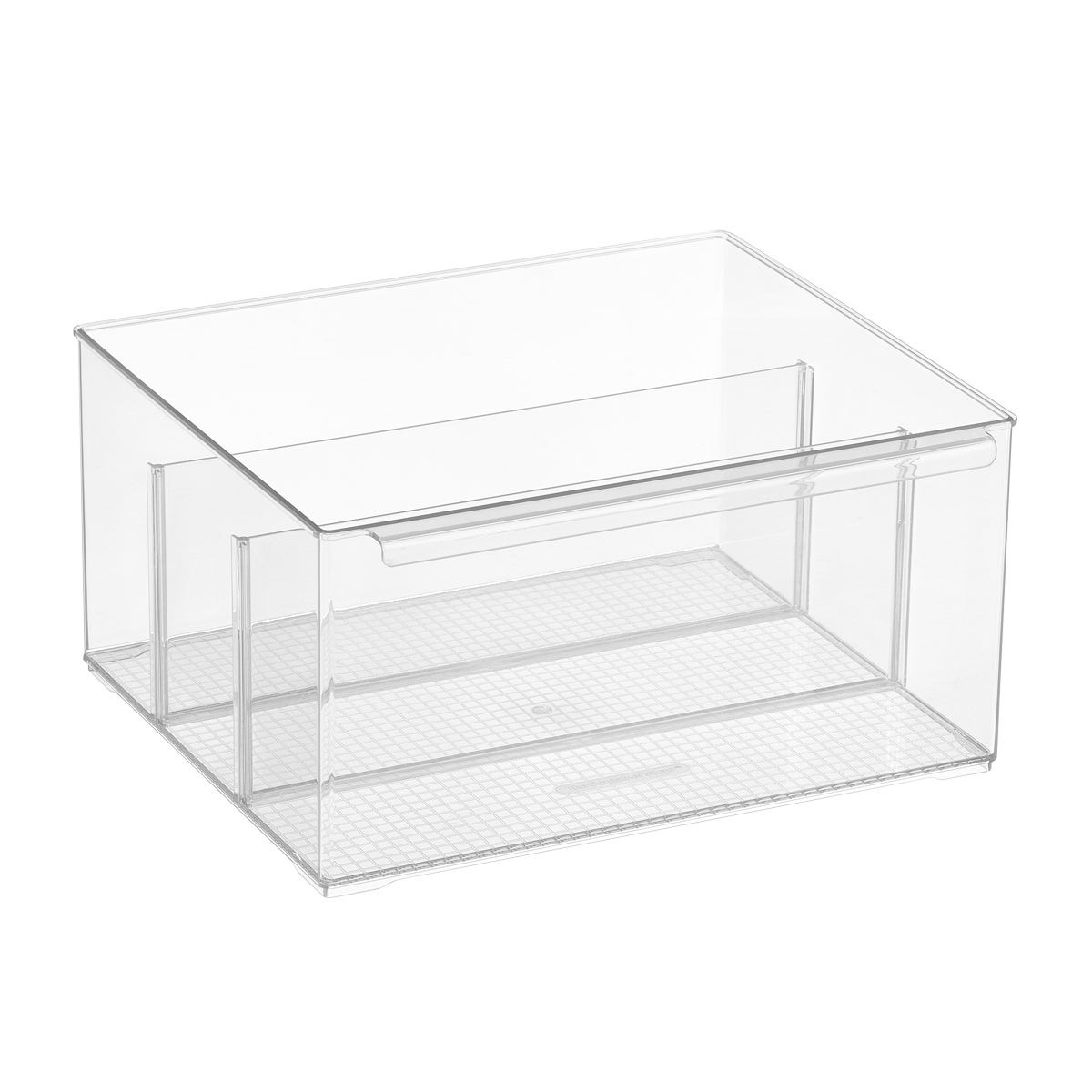 Use Deep Drawer Bins
With small pantries, it's common for shelving to be deep making it challenging to get items from the back. Utilize deep drawer bins to act as "rolling drawers." This will make it easier to access items by taking them out of the drawer.
These bins work really well on the bottom shelves where it's hard to see everything. Bending down and searching is quite frankly annoying and not fun as you get older haha.  All one has to do is take the bin out and put it back when its done.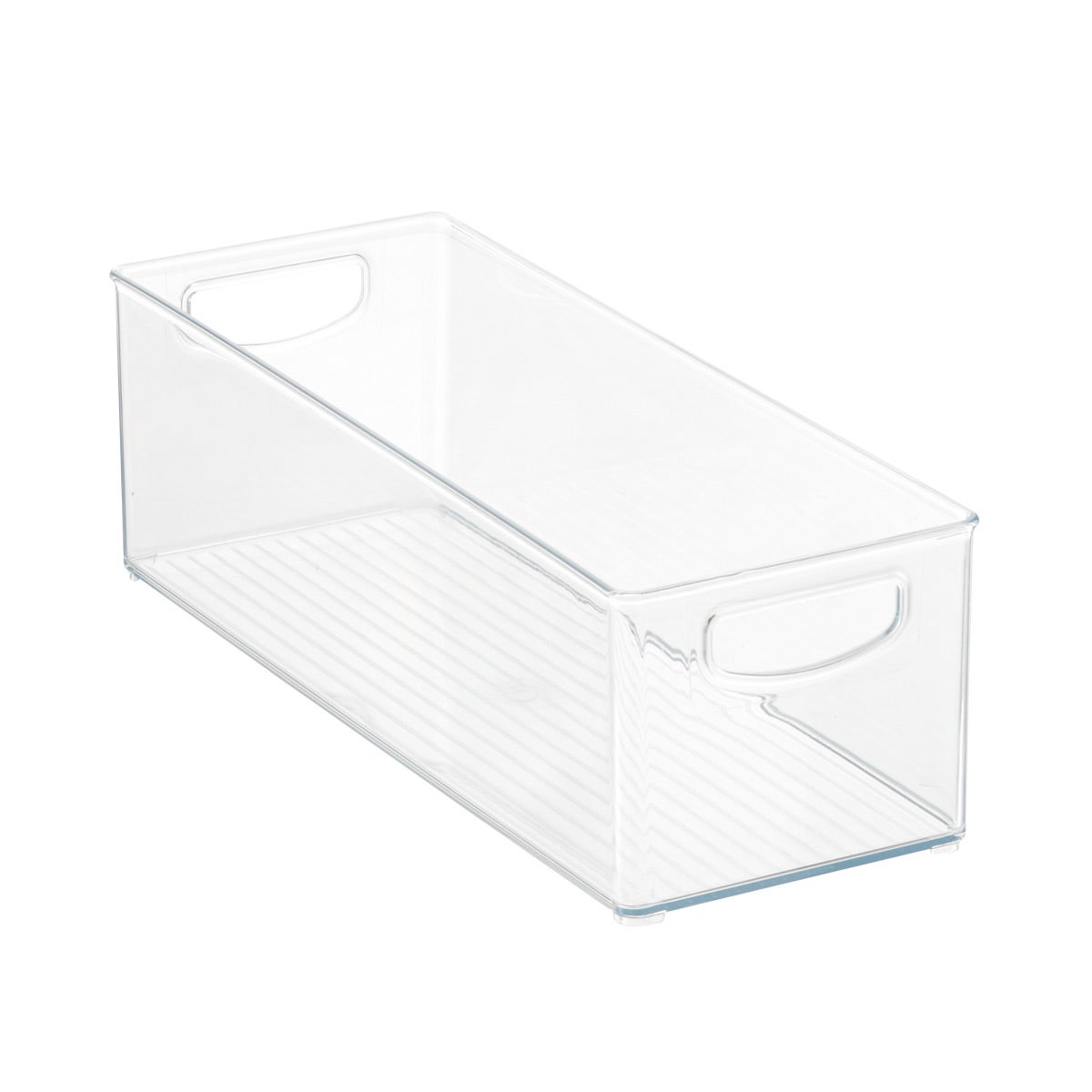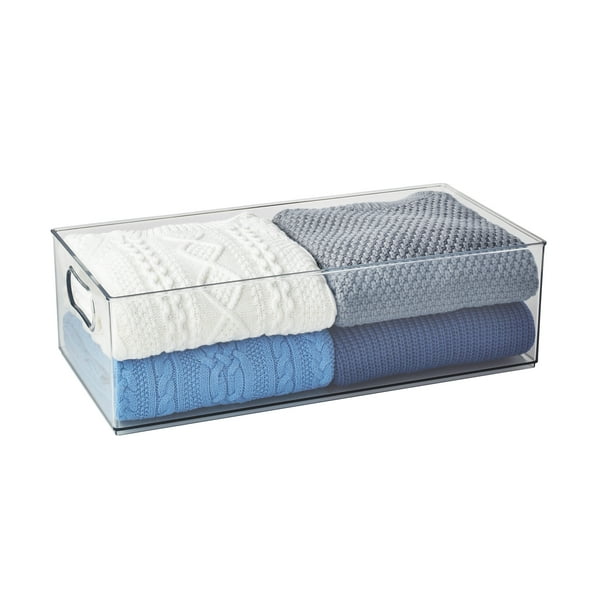 Utilize-The-Door
This over-the-door organizer gets that space organized that is often overlooked.  This door and wall rack unit is easy-to-install and comes with a variety of bins to fit your storage needs.
Every family is different which is why you have to do what works best for you.  This particular family likes to keep medicine and supplements in the kitchen so it is easy for everyone to access since the kitchen is the meeting place for basically everything.
Utilizing this door organizer gives everyone a visual view of what is there. While medicine cabinet items are stored here, these bins can easily be used for the pantry.  Small snacks, condiments, and oils can all be stored here.
The flexibility of the adjustable bins makes this unit completely customizable, which is why this unit rocks, no two homes are the same.  The door unit below was able to be cut to the door size to make it fit.
Final Thoughts
Implementing these small pantry organization tips will take you from frustrated to functional.  When things function well, everything runs smoothly.