A common frustration is how to organize a pantry that is small.  It seems impossible but it's not.  Having an organized pantry has many benefits including less stress.  A good system regardless of the size of a pantry will keep it organized.  Here are some tips for small pantry organization.
*We may receive a commission through the links listed, product recommendations are based on brands we use and trust.
Food Storage Containers
Decanting is a game changer. Clear canisters give you peace of mind and provide an organized look and feel.  Food storage containers stack on top of one another creating more space.  They also provide uniformity, eliminating the decluttered look and feel.
ProKeeper Baker's Storage Set $59.99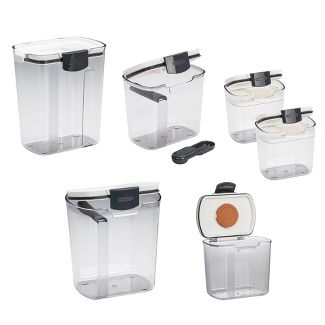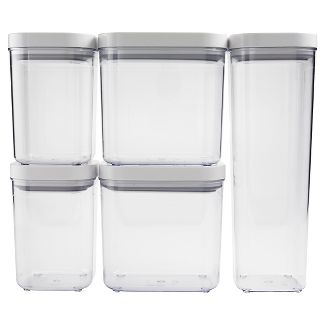 Graphite Modular Canister Set $29.99
Add Shelving
Shelves create more space and make it easy to maintain a small pantry.  Use a freestanding unit like this one or create a custom built one from The Container Store like this.
After shelves are installed or a freestanding unit is put into place, maximize storage with matching bins.  Matching bins provide cohesion and symmetry, both of which our brains love.
Use Stackable Bins
Stackable bins create more space, making sure space is completely utilized.  There are a variety of stackable bins, here are a few personal budget friendly faves.
White Stacking Bin $1.99-$6.99
iDesign Open Stackable Bins $9.99-$12.99
Stackable Bamboo Storage Bins $7.99-$19.99
Utilize The Door
This over-the-door organizer gets that space organized that is often overlooked.  This door and wall rack unit is easy-to-install and comes with a variety of bins to fit your storage needs.  The flexibility of the adjustable bins makes this unit completely customizable, which is why this unit rocks, no two homes are the same.
Mesh Over-the-Door Rack $129.99
Implementing these small pantry organization tips will take you from frustrated to functional.  When things function well, everything runs smoothly.